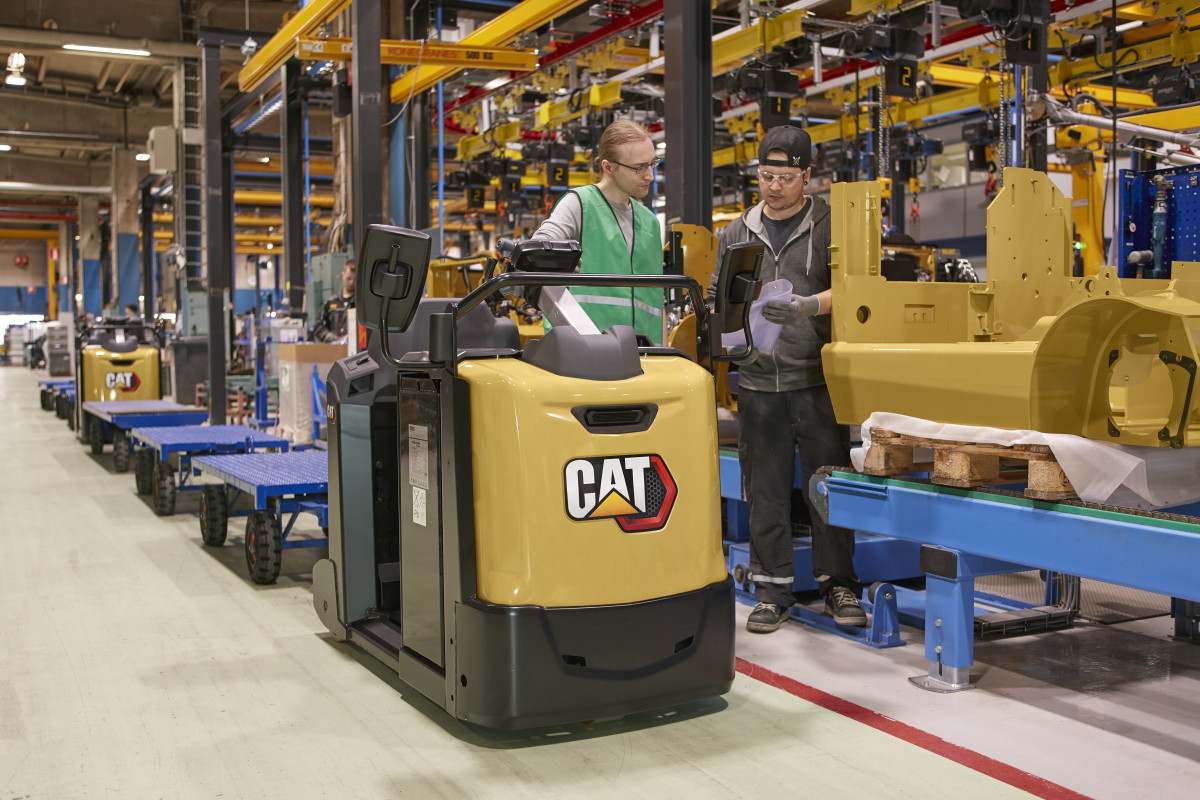 NTR30-50N2
Grazie all'efficienza energetica, al controllo e comfort leader di mercato, i carrelli da traino NTR30-50N2 Cat aumentano la capacità della macchina e dell'operatore. Sono ideali per lavorare nel settore automobilistico e in molte altre applicazioni di magazzino o industriali che richiedono il rimorchio di carichi.
È possibile scegliere tra modelli standard da 3.0 tonnellate o per carichi pesanti da 5.0 tonnellate. Ognuno di essi è caratterizzato da un design di motore e riduttore monoblocco integrato che garantisce la massima efficienza sul mercato. Questi carrelli da traino Cat si avvantaggiano di design e sistemi intelligenti sviluppati e collaudati nella gamma di commissionatori per bassi livelli di prelievo NO-N2 Cat.

Richiedi un preventivo
Descrizione prodotto
Questi modelli sono inoltre personalizzabili in base alle vostre esigenze operative, con una serie di funzioni opzionali disponibili. Queste includono un dispositivo di aggancio automatico che si attiva non appena carrello e rimorchio sono allineati correttamente, bloccandoli istantaneamente insieme. Il disaccoppiamento senza dover scendere dal carrello è reso possibile grazie allo sblocco manuale opzionale. Possono essere specificati connettori elettrici e idraulici che consentono l'uso di rimorchi attivi.
Inferiori Costi
Integrated single-unit motor and gear design adds reliability and delivers the best energy efficiency in the market.
Simplified one-piece main frame, with welded steel construction, is durable and trouble-free.
Simple and quick accessibility of systems and components for checks and servicing minimises downtime and bills.
Inspection holes in chassis enable fast checking of gears, castor wheel and drive wheel screw.
Easy removal of motor compartment shield on front of truck (secured by two screws) gives rapid access to main service point.
Additional removable service hatch speeds up inspection and greasing of drive unit, as well as drive wheel changes.
Display of service hours and battery status encourages correct maintenance (and optional user interface with colour display offers comprehensive information).
PIN code access option prevents unauthorised use.
Optional Li-Ion battery offering longer life, longer runtime and lower maintenance costs over traditional lead-acid batteries.
Produttività
Advanced steering functionality adapts rapidly to every change in operator steering behaviour and travel speed, for smooth, relaxed and safe driving.
Unique intelligent curve control constantly adjusts steering sensitivity, cornering speed and angle limitation to maintain fluent motion, traction and balance from start to finish of turns.
Steering control characteristics are modified when reversing, to allow for driver's sideways position and one-handed operation.
Latest advances in traction control ensure smooth, rapid acceleration and prevent wheelspin and related wear when driving on slippery surfaces or pulling heavy loads.
Deceleration rate and stopping distance are easy to control and predict, for perfect positioning, and are programmable using TruckTool.
ECO and PRO driving modes can be chosen according to the operator and application, and customised settings can be applied to meet more specific requirements.
Walk-beside operation can be controlled via the steering wheel, with angles limited for safety, to improve view of trailer, to manoeuvre when coupling and uncoupling, and to make short movements (optional side-mounted controls are available).
'Flying start' function allows operator to begin acceleration from walk-beside position, before stepping onto the presence-detecting floor mat, for quicker access to drive.
Spacious and unobstructed operator compartment, with non-slip mat, low step height and no tripping hazards, ensures quick walk-through access.
Simple battery access, connection and locking mechanisms allow exchanges in seconds, for minimal downtime.
Automatic coupling (optional) instantly locks the truck and trailer once they are in the right position, while an additional manual release option enables decoupling without leaving the truck.
Connector options enable use of trailers with hydraulic or electric functions for easier and faster handling.
Sicurezza
High-comfort, triple-suspension floor offers floating structure to dampen shocks and vibrations, sideways dampening to relax knees and ankles, and thick state-of-the-art matting to reduce microvibration.
Angled footrest minimises strain for seated (see options) and tall operators.
Optimised backrest shape and height give maximum walk-through access width at hip level, easy passage for operators carrying goods, and a secure leaning position during turns.
Innovative steering wheel, with vibration damping, is effortless to operate with either hand and can be adjusted for height and angle to maximise comfort.
Ergonomically shaped accelerator triggers and other controls, integrated into steering wheel, are easily reached by operator without releasing grip.
Top-of-steering-wheel hand positioning choice enables comfortable and controlled reversing with reduced twisting of shoulders and wrists.
Regenerative braking, optimised to eliminate swaying effect at full stop, combines with hill hold function and anti-lock brakes to aid smooth operation, confidence and safety in all conditions.
Additional safety features (optional) include warning devices – driving light, strobe, blue spot or programmable alarm – as well as wide side mirrors for use when towed loads are wider than the truck.
Opzioni
Li-Ion battery
Lead-acid battery
Manually operated plug coupling, pin diameter 22mm
Automatic coupling, pin diameter 25mm
Automatic coupling with ergonomic unlocking handle, pin diameter 25mm
Electrical 4-pin Trailer socket connection of trailer
Electrical 7-pin Trailer socket connection of trailer
Auxiliary hydraulics for hydraulic coupling of trailer
Cold store design, 0C° to -35C°
Walk beside drive button in backrest, FWD/BWD
Blue point safety light towards driving direction (forks trailing)
Driving light towards driving direction (forks trailing)
Rear working light
Wide rear view mirrors
Warning strobe, yellow
Drive alarm (programmable)
Fire extinguisher
Power friction traction wheel
Solid rubber traction wheel
Treaded Super-Elastic rear wheels
Solid rubber rear wheels
Specifiche
| MODEL | CAPACITY (kg) | LOAD CENTRE (mm) | ENGINE |
| --- | --- | --- | --- |
| NTR30N2 | 3000 | - | Elettrici |
| NTR50N2 | 5000 | - | Elettrici |